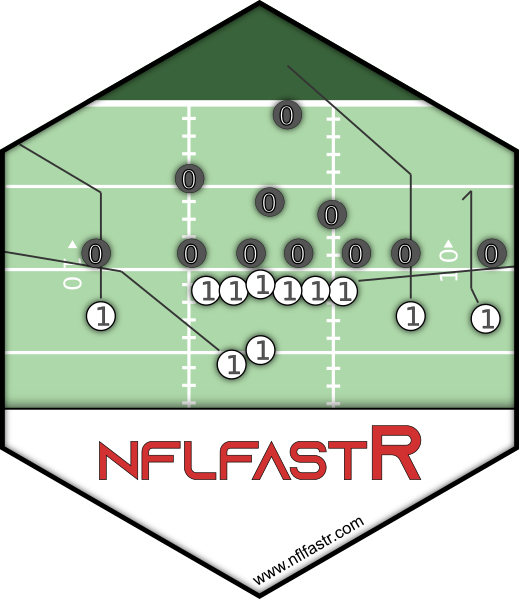 Load Team Rosters for Multiple Seasons
Source:
R/top-level_scraper.R
fast_scraper_roster.Rd
Arguments
seasons

a numeric vector of seasons to return, defaults to returning this year's data if it is March or later. If set to TRUE, will return all available data.
See also
For information on parallel processing and progress updates please see nflfastR.
Examples
# \donttest{




# Roster of the 2019 and 2020 seasons




fast_scraper_roster

(

2019

:

2020

)




#>

 ── 

nflverse rosters

 ────────────────────────────────────────────────────────────


#>

 

ℹ

 Data updated: 

2022-03-10 17:46:36 UTC




#>

 

# A tibble: 7,735 × 25




#>

    season team  position depth_chart_position jersey_number status full_name    


#>

     

<dbl>

 

<chr>

 

<chr>

    

<chr>

                        

<int>

 

<chr>

  

<chr>

        


#>

 

 1

   

2

019 ARI   C        

NA

                              60 CUT    Jacob Ohneso…


#>

 

 2

   

2

019 ARI   C        

NA

                              53 ACT    A.Q. Shipley 


#>

 

 3

   

2

019 ARI   C        

NA

                              65 ACT    Lamont Gaill…


#>

 

 4

   

2

019 ARI   CB       

NA

                              27 SUS    Josh Shaw    


#>

 

 5

   

2

019 ARI   CB       

NA

                              30 ACT    Jalen Davis  


#>

 

 6

   

2

019 ARI   CB       

NA

                              33 ACT    Byron Murphy 


#>

 

 7

   

2

019 ARI   CB       

NA

                              22 CUT    Trevor Willi…


#>

 

 8

   

2

019 ARI   CB       

NA

                              26 RES    Brandon Will…


#>

 

 9

   

2

019 ARI   CB       

NA

                              

NA

 DEV    Sojourn Shel…


#>

 

10

   

2

019 ARI   CB       

NA

                              28 CUT    Deatrick Nic…


#>

 

# … with 7,725 more rows, and 18 more variables: first_name <chr>,




#>

 

#   last_name <chr>, birth_date <date>, height <chr>, weight <chr>,




#>

 

#   college <chr>, high_school <chr>, gsis_id <chr>, espn_id <int>,




#>

 

#   yahoo_id <int>, rotowire_id <int>, pff_id <int>, pfr_id <chr>,




#>

 

#   headshot_url <chr>, fantasy_data_id <int>, sleeper_id <chr>,




#>

 

#   years_exp <int>, sportradar_id <chr>




# }