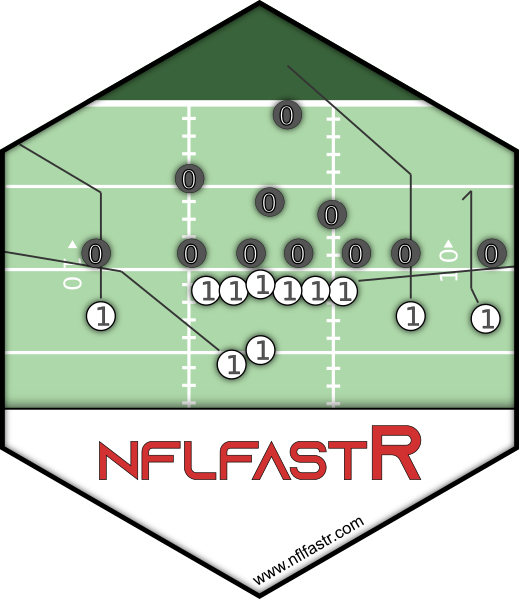 Build a Complete nflfastR Data Set
Source:
R/build_nflfastR_pbp.R
build_nflfastR_pbp.Rd
Arguments
game_ids

Vector of character ids or a data frame including the variable game_id (see details for further information).

...

Additional arguments passed to the scraping functions (for internal use)

decode

If TRUE, the function decode_player_ids() will be executed.

rules

If FALSE, printing of the header and footer in the console output will be suppressed.
See also
For information on parallel processing and progress updates please see nflfastR.
Examples
# \donttest{




# Build nflfastR pbp for the 2018 and 2019 Super Bowls


try

(

{

# to avoid CRAN test problems




build_nflfastR_pbp

(

c

(

"2018_21_NE_LA"

, 

"2019_21_SF_KC"

)

)




}

)




#>

 ── 

Build nflfastR Play-by-Play Data

 ───────────── nflfastR version 4.5.1.9001 ──


#>

 • 16:57:37 | Start download of 2 games...


#>

 

ℹ

 It is recommended to use parallel processing when trying to load multiple games.Please consider running `future::plan("multisession")`! Will go on sequentially...


#>

 

✔

 16:57:41 | Download finished. Adding variables...


#>

 

✔

 16:57:41 | added game variables


#>

 

✔

 16:57:43 | added nflscrapR variables


#>

 [16:57:43] WARNING: src/learner.cc:553: 


#>

   If you are loading a serialized model (like pickle in Python, RDS in R) generated by


#>

   older XGBoost, please export the model by calling `Booster.save_model` from that version


#>

   first, then load it back in current version. See:


#>

 


#>

     https://xgboost.readthedocs.io/en/latest/tutorials/saving_model.html


#>

 


#>

   for more details about differences between saving model and serializing.


#>

 


#>

 

✔

 16:57:44 | added ep variables


#>

 

✔

 16:57:44 | added air_yac_ep variables


#>

 [16:57:44] WARNING: src/learner.cc:553: 


#>

   If you are loading a serialized model (like pickle in Python, RDS in R) generated by


#>

   older XGBoost, please export the model by calling `Booster.save_model` from that version


#>

   first, then load it back in current version. See:


#>

 


#>

     https://xgboost.readthedocs.io/en/latest/tutorials/saving_model.html


#>

 


#>

   for more details about differences between saving model and serializing.


#>

 


#>

 [16:57:44] WARNING: src/learner.cc:553: 


#>

   If you are loading a serialized model (like pickle in Python, RDS in R) generated by


#>

   older XGBoost, please export the model by calling `Booster.save_model` from that version


#>

   first, then load it back in current version. See:


#>

 


#>

     https://xgboost.readthedocs.io/en/latest/tutorials/saving_model.html


#>

 


#>

   for more details about differences between saving model and serializing.


#>

 


#>

 

✔

 16:57:45 | added wp variables


#>

 

✔

 16:57:45 | added air_yac_wp variables


#>

 [16:57:45] WARNING: src/learner.cc:553: 


#>

   If you are loading a serialized model (like pickle in Python, RDS in R) generated by


#>

   older XGBoost, please export the model by calling `Booster.save_model` from that version


#>

   first, then load it back in current version. See:


#>

 


#>

     https://xgboost.readthedocs.io/en/latest/tutorials/saving_model.html


#>

 


#>

   for more details about differences between saving model and serializing.


#>

 


#>

 

✔

 16:57:45 | added cp and cpoe


#>

 

✔

 16:57:46 | added fixed drive variables


#>

 

✔

 16:57:47 | added series variables


#>

 • 16:57:47 | Cleaning up play-by-play...


#>

 

✔

 16:57:48 | Cleaning completed


#>

 

✔

 16:57:48 | added qb_epa


#>

 • 16:57:48 | Computing xyac...


#>

 [16:57:49] WARNING: src/learner.cc:553: 


#>

   If you are loading a serialized model (like pickle in Python, RDS in R) generated by


#>

   older XGBoost, please export the model by calling `Booster.save_model` from that version


#>

   first, then load it back in current version. See:


#>

 


#>

     https://xgboost.readthedocs.io/en/latest/tutorials/saving_model.html


#>

 


#>

   for more details about differences between saving model and serializing.


#>

 


#>

 

✔

 16:57:56 | added xyac variables


#>

 • 16:57:56 | Computing xpass...


#>

 [16:57:56] WARNING: src/learner.cc:553: 


#>

   If you are loading a serialized model (like pickle in Python, RDS in R) generated by


#>

   older XGBoost, please export the model by calling `Booster.save_model` from that version


#>

   first, then load it back in current version. See:


#>

 


#>

     https://xgboost.readthedocs.io/en/latest/tutorials/saving_model.html


#>

 


#>

   for more details about differences between saving model and serializing.


#>

 


#>

 

✔

 16:57:56 | added xpass and pass_oe


#>

 

✔

 16:57:56 | Decoding of player ids completed


#>

 ── 

DONE

 ────────────────────────────────────────────────────────────────────────


#>

 ── 

nflverse play by play

 ───────────────────────────────────────────────────────


#>

 

ℹ

 Data updated: 

2023-01-30 16:57:56 UTC




#>

 

# A tibble: 353 × 372




#>

    play_id game_id old_g…¹ home_…² away_…³ seaso…⁴  week posteam poste…⁵ defteam


#>

      

<dbl>

 

<chr>

   

<chr>

   

<chr>

   

<chr>

   

<chr>

   

<int>

 

<chr>

   

<chr>

   

<chr>

  


#>

 

 1

       1 2018_2… 201902… LA      NE      POST       21 

NA

      

NA

      

NA

     


#>

 

 2

      38 2018_2… 201902… LA      NE      POST       21 NE      away    LA     


#>

 

 3

      67 2018_2… 201902… LA      NE      POST       21 NE      away    LA     


#>

 

 4

      89 2018_2… 201902… LA      NE      POST       21 NE      away    LA     


#>

 

 5

     111 2018_2… 201902… LA      NE      POST       21 NE      away    LA     


#>

 

 6

     133 2018_2… 201902… LA      NE      POST       21 NE      away    LA     


#>

 

 7

     155 2018_2… 201902… LA      NE      POST       21 NE      away    LA     


#>

 

 8

     182 2018_2… 201902… LA      NE      POST       21 LA      home    NE     


#>

 

 9

     204 2018_2… 201902… LA      NE      POST       21 LA      home    NE     


#>

 

10

     226 2018_2… 201902… LA      NE      POST       21 LA      home    NE     


#>

 

# … with 343 more rows, 362 more variables: side_of_field <chr>,




#>

 

#   yardline_100 <dbl>, game_date <chr>, quarter_seconds_remaining <dbl>,




#>

 

#   half_seconds_remaining <dbl>, game_seconds_remaining <dbl>,




#>

 

#   game_half <chr>, quarter_end <dbl>, drive <dbl>, sp <dbl>, qtr <dbl>,




#>

 

#   down <dbl>, goal_to_go <dbl>, time <chr>, yrdln <chr>, ydstogo <dbl>,




#>

 

#   ydsnet <dbl>, desc <chr>, play_type <chr>, yards_gained <dbl>,




#>

 

#   shotgun <dbl>, no_huddle <dbl>, qb_dropback <dbl>, qb_kneel <dbl>, …







# It is also possible to directly use the




# output of `fast_scraper_schedules` as input


try

(

{

# to avoid CRAN test problems


library

(

dplyr, warn.conflicts 

=

 

FALSE

)


fast_scraper_schedules

(

2020

)

 %>%
  slice_tail

(

n 

=

 

3

)

 %>%
  

build_nflfastR_pbp

(

)


 

}

)




#>

 ── 

Build nflfastR Play-by-Play Data

 ───────────── nflfastR version 4.5.1.9001 ──


#>

 • 16:57:56 | Start download of 3 games...


#>

 

ℹ

 It is recommended to use parallel processing when trying to load multiple games.Please consider running `future::plan("multisession")`! Will go on sequentially...


#>

 

✔

 16:58:01 | Download finished. Adding variables...


#>

 

✔

 16:58:02 | added game variables


#>

 

✔

 16:58:04 | added nflscrapR variables


#>

 

✔

 16:58:04 | added ep variables


#>

 

✔

 16:58:05 | added air_yac_ep variables


#>

 

✔

 16:58:05 | added wp variables


#>

 

✔

 16:58:05 | added air_yac_wp variables


#>

 

✔

 16:58:05 | added cp and cpoe


#>

 

✔

 16:58:07 | added fixed drive variables


#>

 

✔

 16:58:08 | added series variables


#>

 • 16:58:08 | Cleaning up play-by-play...


#>

 

✔

 16:58:08 | Cleaning completed


#>

 

✔

 16:58:09 | added qb_epa


#>

 • 16:58:09 | Computing xyac...


#>

 

✔

 16:58:18 | added xyac variables


#>

 • 16:58:19 | Computing xpass...


#>

 

✔

 16:58:19 | added xpass and pass_oe


#>

 

✔

 16:58:19 | Decoding of player ids completed


#>

 ── 

DONE

 ────────────────────────────────────────────────────────────────────────


#>

 ── 

nflverse play by play

 ───────────────────────────────────────────────────────


#>

 

ℹ

 Data updated: 

2023-01-30 16:58:19 UTC




#>

 

# A tibble: 545 × 372




#>

    play_id game_id old_g…¹ home_…² away_…³ seaso…⁴  week posteam poste…⁵ defteam


#>

      

<dbl>

 

<chr>

   

<chr>

   

<chr>

   

<chr>

   

<chr>

   

<int>

 

<chr>

   

<chr>

   

<chr>

  


#>

 

 1

       1 2020_2… 202101… KC      BUF     POST       20 

NA

      

NA

      

NA

     


#>

 

 2

      42 2020_2… 202101… KC      BUF     POST       20 BUF     away    KC     


#>

 

 3

      57 2020_2… 202101… KC      BUF     POST       20 BUF     away    KC     


#>

 

 4

      78 2020_2… 202101… KC      BUF     POST       20 BUF     away    KC     


#>

 

 5

     102 2020_2… 202101… KC      BUF     POST       20 BUF     away    KC     


#>

 

 6

     123 2020_2… 202101… KC      BUF     POST       20 BUF     away    KC     


#>

 

 7

     145 2020_2… 202101… KC      BUF     POST       20 BUF     away    KC     


#>

 

 8

     174 2020_2… 202101… KC      BUF     POST       20 BUF     away    KC     


#>

 

 9

     207 2020_2… 202101… KC      BUF     POST       20 BUF     away    KC     


#>

 

10

     236 2020_2… 202101… KC      BUF     POST       20 BUF     away    KC     


#>

 

# … with 535 more rows, 362 more variables: side_of_field <chr>,




#>

 

#   yardline_100 <dbl>, game_date <chr>, quarter_seconds_remaining <dbl>,




#>

 

#   half_seconds_remaining <dbl>, game_seconds_remaining <dbl>,




#>

 

#   game_half <chr>, quarter_end <dbl>, drive <dbl>, sp <dbl>, qtr <dbl>,




#>

 

#   down <dbl>, goal_to_go <dbl>, time <chr>, yrdln <chr>, ydstogo <dbl>,




#>

 

#   ydsnet <dbl>, desc <chr>, play_type <chr>, yards_gained <dbl>,




#>

 

#   shotgun <dbl>, no_huddle <dbl>, qb_dropback <dbl>, qb_kneel <dbl>, …







# \dontshow{




# Close open connections for R CMD Check




future

::

plan

(

"sequential"

)




# }




# }